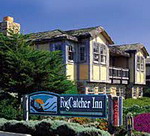 Hello everyone, this is Waverly Smithers reporting from Moonstone beach(named after the beautiful rocks you see above). In case you dont know where that is, its in Cambria, and if you dont know where that is well.... get a map. Anyway, me and my family(me, mom, dad, and grandma)are on a five day road trip to San Fransisco. Today would be the begining of day two. The weather: foggy and humid(lovely)
We are staying in a cute inn called: Fog Catcher Inn. Its really nice.

Well it has not been very excting yet so i will keep you updated.
WAVERLY SMITHERS